Online learning platforms have so much potential to get your students engaged and thinking outside the box. But having students create their own accounts can be a real slog, and we all dread the inevitable cry of "My login doesn't work!"
Sidestep the hassle of having your students set up their accounts by easily setting them up yourself! Managed Accounts allow you to create your students' accounts and reset their passwords at will. No more lengthy email exchanges with the IT department to get Timmy's password changed!
Account for all the accounts
As educators, we know some of the headaches often associated with online learning, so we created Managed Accounts to make setting up your students' accounts simple:
Worried about the names some of your more audacious students might pick? Don't worry; you set them yourself.
Concerned that your student who can't even remember their pencil won't remember their password? No problem—you can reset their password as often as needed.
And worried that your students don't have (or don't remember) their school email addresses? None needed. Everything is done through their username, which you created.
Managed Accounts streamline what is often the most painful part of the edtech experience, leaving you with one quick and easy interface for handling your students' login details.
Managerial efficiency
Let's just say that some schools aren't known for their managerial efficiency. Managed Accounts aims to be the administrative system you always wanted, letting you set up a batch of student accounts all by yourself, in one convenient window.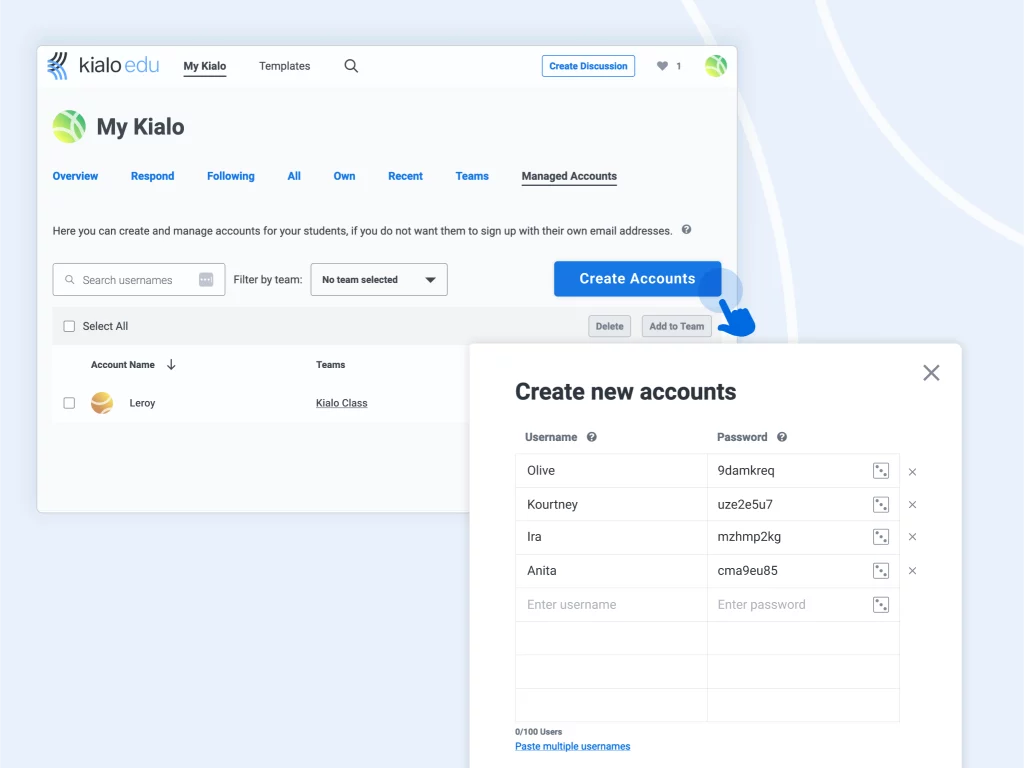 On the My Kialo page, select the Managed Accounts tab. Here, you can paste multiple usernames simultaneously, and also invite them all to a pre-existing team. You can even click the dice icon if you want us to generate a random password for you (rumor has it that "Guest123" is not entirely watertight).
In most cases, that's it! Just give your students their login details and they are ready to go. If any students forget their password, you can change it by clicking on the three dots to the right of their account in the Managed Accounts section.
Managed Accounts takes admin off your plate so you can focus on the important things, like giving feedback on your students' great contributions or finally getting around to your lunch after break duty!